Expertise is just the beginning…
Compliance Star offers effective and efficient remote management of Principal Firms with Appointed Representatives or Directly Authorised firms for their business units.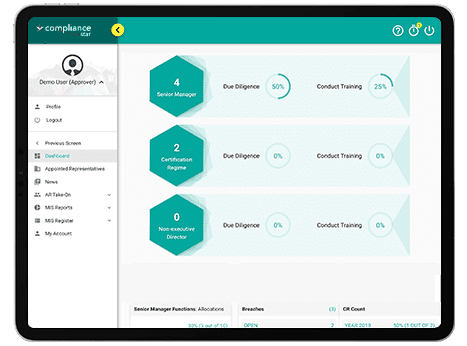 Full compliance — no compromise.
Compliance Star is a technology-enabled compliance platform that facilitates compliance management, workflow and monitoring of firms authorised by the Financial Conduct Authority (FCA). Compliance Star is underpinned by a 'fail-safe', calendar-based task management system which allows for both automatic and manual setting of tasks, notifies actions, populates deadlines into a calendar, issues reminders and monitors for completion.
The platform reduces compliance burden significantly and is currently being used by leading regulatory networks. Compliance Star enables complete tracking of internal regulatory processes. It provides up-to-date single point data access combined with the ability to produce FCA required reports on such data, saving time and cost. If you are looking for control, we think Compliance Star is just the solution you need.