Senior Manager and Certification Regime
Compliance Star allows you to select from a package of modules which can be tailored to your needs and requirements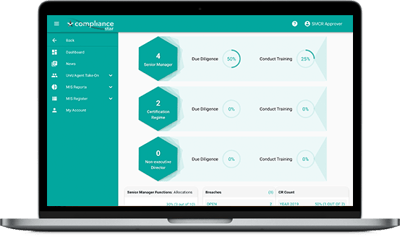 Background
The Senior Managers & Certification Regime (SM&CR) replaced the previous Approved Persons regime for all solo regulated firms* on 9 December 2019. The FCA objectives are to develop a culture whereby financial services employees at all levels take personal responsibility for their own actions, irrespective of their level in the organisational hierarchy, and to ensure that firms and their personnel unambiguously understand and can articulate exactly where responsibility resides in a given instance.
The SM&CR module integrated into the suite of Compliance Star applications is designed to capture all the relevant functions and responsibilities which apply across organisations and key individuals.
* SM&CR does not apply to payment services firms (this may change in future).
Compliance Star
Statement of Responsibilities reporting, workflow and approval including prescribed and other responsibilities

Workflow to manage and evidence conduct risk training, breaches and tasks

Certificate Regime section records all Certification Regime employee's due diligence and issue of Certificate confirming the individual has been assessed as competent for the role

Automated process and workflow for ongoing assessments of the fitness and propriety of Senior Managers and Certification employees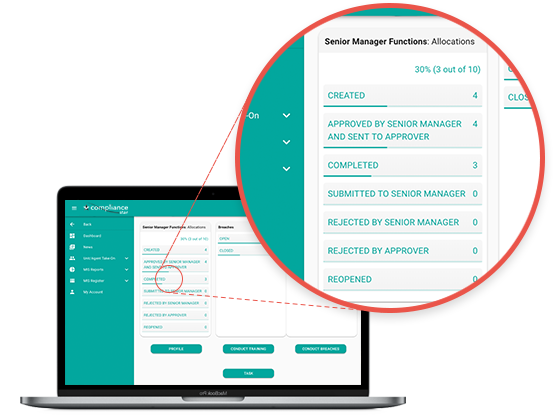 Benefits
Regulatory obligations are met regarding the information which needs to be held on the individuals.

Dashboards and MI to highlight any issues/gaps in documentation.

Automated tasks to ensure ongoing due diligence

Audit trail of all communications both internal and external