Management Information Reports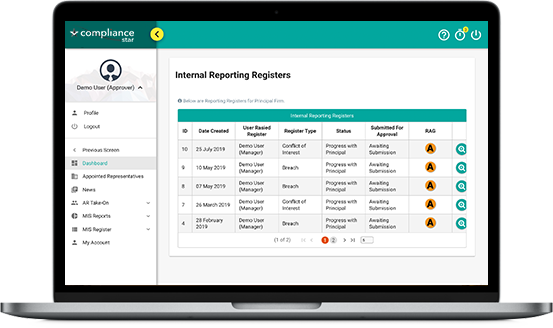 Background
The principal firm will need to be able to evidence the oversight, management and recommendations made to the AR's. Clear and concise reporting is a requirement from the regulator.
Compliance Star
A range of reports and dashboards will be accessible including status reports on Attestations, Audit and On-boarding Report.

The search capability allows you to define criteria to search on within the reporting frameworks.

Search via calendar dates to review audits undertaken refined by AR, Business Types or Lead Manager.

Reports can be downloaded by Excel, PDF, CSV or XML file.

Required actions reports can be accessed and managed from this central point.

Reports can be downloaded for further refinement, analysis and presentations within board reports

Complaints register and reports can be downloaded to assist with regulatory reporting.

Comprehensive complaints reporting that can be drilled down to volume, days taken to resolve, redress and complaint reasons to support identification of root cause and remedial actions and more.

Financial promotions reporting and dashboards for clarity of operational service level agreements and types of promotions being published.

All reports can be drilled down by date range, business type and/or AR for supervision and oversight.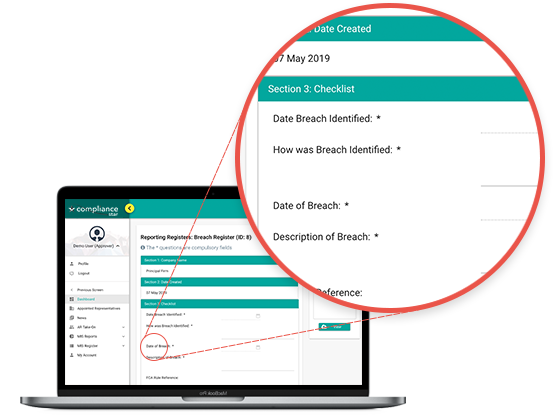 Benefits
The readily available information across a range of reports types giving you both granular and high level governance for all AR's will satisfy the regulators oversight requirements.

The range of download options allow for a range of format types to various internal presentations.